Downloading a VAT Invoice for Monegros Desert Festival 2021
Downloading a VAT Invoice for Monegros Desert Festival 2021
Updated by Kerry Hearn
How to Download a VAT invoice for your Ticket Purchase for Monegros Desert Festival 2021
You can download the Invoice from your orders tab.
Once you have purchased your tickets, select the 'Tickets' tab and then from the ticket page you will select the 'Orders' tab.

In your orders tab you will see an order for the tickets you have just purchased for Monegros Desert Festival 2021. Select the 3 dots (more) and then select 'DOWNLOAD INVOICE'

If you have not entered your billing details, enter them in the modal and select 'DOWNLOAD INVOICE'. If you have already entered your billing details, the invoice will download as a PDF without the additional step.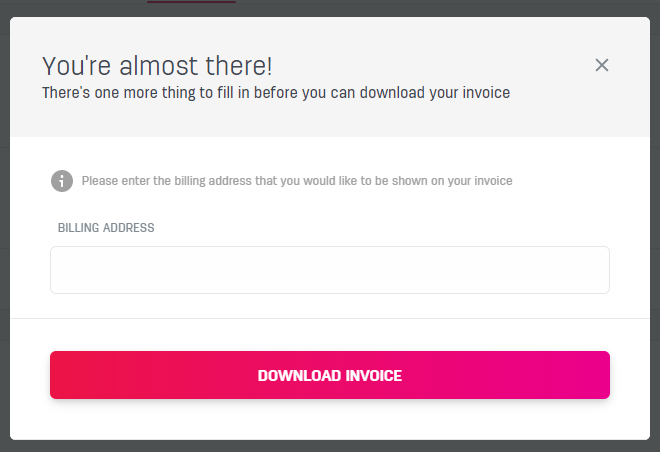 You can download the invoice from the link in your ticket purchase confirmation mailer.
After you purchase a ticket, you will receive a confirmation mailer. Below the ticket download button, there will be a link that you can follow to download your invoice.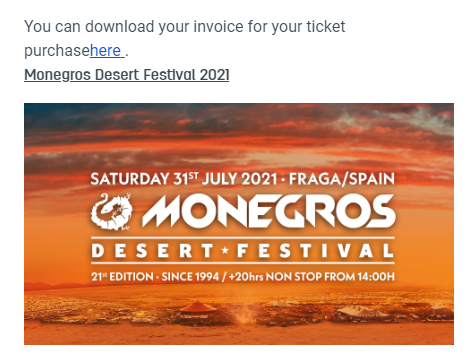 Select the 'here' link and it will direct you to your orders page where you can download your invoice with the same process as point 1.